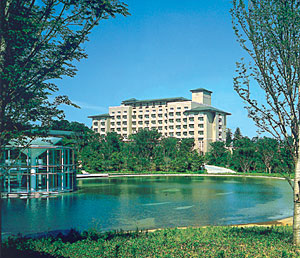 The Hotel Okura chain, one of the most popular hotel chains in Japan and known for its excellent level of customer service, operates the high quality Okura Akademia Park Hotel. With 124 rooms, 4 restaurants, and 9 banquet rooms, we are sure that you will have a comfortable stay while you are in Kazusa.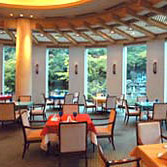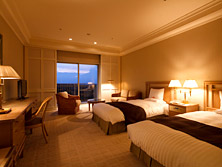 Banquet Halls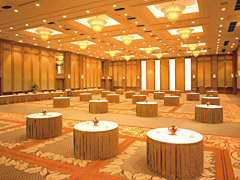 The Okura Akademia Park Hotel has one large, two medium, and several small banquet halls which can be used for cocktail parties, dinners, or for educational seminars.
Please refer to the chart below for the capacities of each room for different types of events.
Area (m2 )
Cocktail (people)
Dinner (people)
School (people)
Notes
Large Banquet Hall "Heian"
891
600
420
560
two partitions
Medium Banquet Hall "Ariake"
469
350
200
294
one partition
Medium Banquet Hall "Asuka"
295
200
120
144
one partition
Small Banquet Hall
Aoi, Kiku, Sakura, Ume
51-60
30
10-20
---
one partition excluding Kiku
Azalea, Cattleya
69-79
30-40
30-40
30-42
Room Capacity (3F-7F)
124 Rooms Total, 240 Person Capacity
*1m2 is equivalent to 10.76sq.ft.
| Type | Rooms | Area (m2)* |
| --- | --- | --- |
| Standard Double Room | 23 | 28-30 |
| Standard Twin Room | 19 | 30 |
| Superior Double Room | 5 | 39 |
| Superior Twin Room | 44 | 39-41 |
| Deluxe Twin Room | 29 | 45 |
| Suite Room | 3 | 69-90 |
| Royal Suite Room | 1 | 120 |
Restaurants & Bars
Camellia (Western food)
60 seats
Toh · ka · lin (Chinese food)
75 seats
Yamazato (Japanese food)
68 seats
Sazanka (Japanese-style BBQ)
26 seats
Ciel Bleu (Lounge)
50 seats
Orchid Bat (Bar)
60 seats