The Center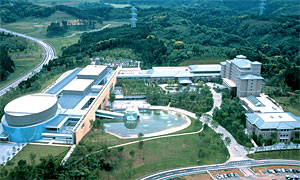 Kazusa Arc (Kazusa Akademia Center) is the heart of Kazusa Akademia Park. The Park, surrounded by an abundance of greenery, is aiming to be an advanced international research facility and conference center.
The facility is a complex of numerous modern, state-of-the-art conference rooms, as well as world class hotel accommodations, offering an ideal meeting site for international conventions and conferences.
Because of its outstanding location as an R&D base for high-tech industries, many private companies have set up research institutes in the Park. Additionally, through the participation of many events, Kazusa is a place where people gather to exchange information, and learn about different cultures.